"The Promise that a Scout makes on joining has as its first point: "To do my duty to God." Note that it does not say "To be loyal to God," since this would merely be a state of mind, but to do something, which is the positive, active attitude." 

(Baden-Powell)
Une promesse à vivre
La sens de la Promesse des scouts juifs trouve son origine dans l'engagement pris par les Hébreux au Mont Sinaï quand ils ont accepté les Dix Paroles de Dieu : « Naassé véNichma, nous ferons et nous comprendrons »
C'est un engagement, une promesse à vivre car, selon la Tradition juive, c'est dans le vécu, avec les gestes simples de tous les jours, que les éclaireuses et éclaireurs israélites découvrent leur Créateur, le monde et les autres.
"Ce qui est important, ce n'est pas le croire, mais le faire. 


Le bien faire est l'acte même de croire."

 

(Emmanuel Levinas)
"

Le judaïsme n'est pas une « foi révélée » mais une « loi révélée »."

 


(Moses Mendelssohn, cité par Emmanuel Levinas)
Le jeu scout fait découvrir les différentes dimensions culturelles et cultuelles du judaïsme, la complexité et les richesses du monde d'aujourd'hui. C'est ainsi que l'engagement « à faire des efforts » de la promesse des Cub Scouts évolue jusqu'à la promesse « à approfondir, développer, m'engager » des Scouts ; une nouvelle compréhension qui évoluera encore avec l'engagement « à transmettre » des Madrichim selon l'enseignement de rabbi Na'hman.
C'est une dynamique de la découverte par l'action, un perpétuel approfondissement de ses connaissances. Rabbi Na'hman de Bratslav explique qu'il y a une dialectique ascendante dans l'engagement du faire qui sert de terre à un ciel de la compréhension. Une fois atteint, ce ciel devient à son tour terre d'un nouveau ciel.
Les scouts juifs gravissent ainsi, années après années, sorties après sorties, camps après camps, l'échelle spirituelle initiée au Mont Sinaï.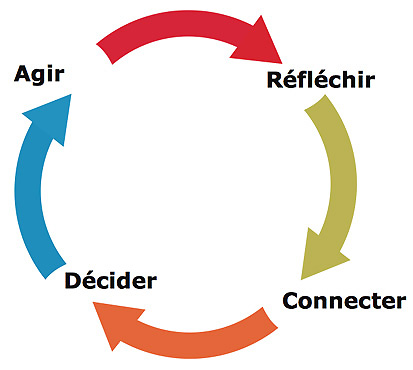 Two symbols visualize the Scout Promise:
1. A woven Badge (already sewn on the chultsa) with the World Scout emblem enhancing the universal brotherhood of Scouting.
2. An enamel Badge with the Jewish Scout emblem enhancing the Jewish brotherhood in Scouting. "Jewish Scouts" is written in the national language, in Yiddish and in Hebrew.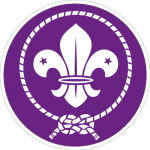 THE SCOUT PROMISE

 The Lapel Pin chosen for the Scout Promise is the Tsofim Yehudim emblem within a green circle.
"With your help, I promise to do my best to:
– deepen the sense of our Scout Law
– develop the spiritual values of my life
– commit myself in each community where I live"

« Avec votre aide, je promets de faire tout mon possible pour :
– approfondir le sens de notre Loi scoute ;
– développer les valeurs spirituelles de ma vie ;
– m'engager dans chaque communauté où je vis. »
THE ROVER COMMITMENT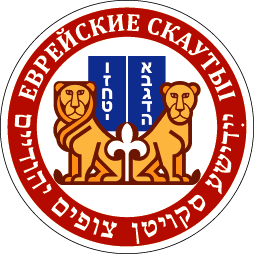 The Lapel Pin chosen for the Rover Commitment is the Tsofim Yehudim emblem within a red circle.
« Que la jeunesse créatrice de l'Éternel habite chacun de tes/vos instants, … Que jamais ni dans les pratiques de la religion, ni dans celle de la famille ou de l'amitié, ni dans l'accomplissement de tes/vos devoirs de citoyen(ne)s ou d'hommes/de femmes, ni dans le plus humble travail, ni dans le plus humble plaisir, les froids mécanismes de l'habitude n'éteignent en toi/vous l'étincelle créatrice qu'y alluma le reflet de la divinité.» 
"May the youthful creativity of the Eternal pervade my every moment, …  Never in my religious practice, nor in relations with my family or friends, nor in the accomplishment of my duties as citizens or (wo)men, nor in my most humble work, nor in my most humble pleasure, may the cold mechanisms of habit extinguish in me the creative spark which was lit by the reflection of the divine."
THE MADRICH COMMITMENT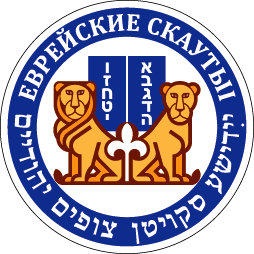 The Lapel Pin chosen for the Madrichim Commitment is the Tsofim Yehudim emblem within a blue circle.
"With your help, I commit to train myself to better live, to help others live better, and to convey to others The Tsofim Yehudim Law"
« Avec votre aide, je m'engage à me former pour mieux vivre, faire vivre et transmettre la Loi des Tsofim Yehudim.» 
"The spirit is there in every boy; 
it has to be discovered and brought to light." (Baden-Powell)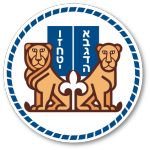 Tsofim Yehudim, LeDor VaDor
Jewish Scouts, from generation to generation